As Founder and CEO of BIZNOVATOR, I am honored to welcome you to our website and thank you for your interest in the BIZNOVATOR PRO opportunity.
For many entrepreneurs the dream of affordable business ownership and securing financial independence in today's highly competitive, technology driven marketplace now appears far out of reach. However, for the most committed and sharp entrepreneurs with long-range foresight and enthusiasm to impact, BIZNOVATOR PRO can offer amazing opportunities for growth. For those acting early and getting in on the ground floor of the youth empowerment and education revolution taking place around the world, BIZNOVATOR is well positioned to offer robust platform and unique business model that measures real impact.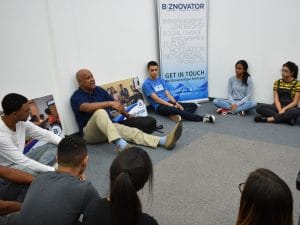 BIZNOVATOR PRO Licensees will be locally owned and operated. Our goal is to become a major asset to local schools, community-based organizations, small businesses, corporations, and families. For many years I've given serious thoughts to expanding BIZNOVATOR through licensing partnerships. After much consideration and building the right corporate team of executives, I am prepared and excited to pass along all my hard-earned experiences, strategies and know how to guide you as you build a robust business that we hope will bring both personal and professional gratification to you as an owner and tremendous value to your local community.
Effective immediately, BIZNOVATOR is offering select entrepreneurs the same opportunity for success that I have enjoyed, in a unique and scalable business model that we know will change the lives of young people around the world. With this goal in mind, we have built our business model carefully and clearly, offering the content, training, certifications, information and tools needed to succeed. Whether you've been in business, or are an aspiring entrepreneur looking to add innovative content and business model to your portfolio, my sole focus is to provide you with tremendous value and guidance to help you reach your personal and professional goals.
The time is NOW!